June 26, 2015
"All happy families are alike; each unhappy family is unhappy in its own way." Leo Tolstoy wasn't quite right about this, at least about happy families being alike. People create happy families in many different ways, not just the typical spouse-children-grandchildren approach commonly presented in the media.
Consider Pat McGary. Eighty-year-old Pat never had a spouse or children of her own, but she is an active part of a large, loving and supportive family. I first met Pat on the golf course. Her beautiful game, sense of humor and supportive comments for golfers of all abilities make her a delightful golf companion. A five handicapper in her younger years (which means she was an outstanding golfer), she still hits the ball far and straight and inspires other players.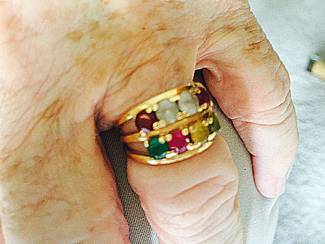 The youngest of five children, Pat was born when her oldest sibling was sixteen. After her father died when she was a senior in high school, Pat's mother told her they would both get jobs when Pat turned eighteen. Pat graduated from high school and got a job at Zollner Pistons in Fort Wayne, Indiana, where she worked until she retired in 1990. Early in Pat's career one of her sisters lost her husband. With a newborn baby and seven other children, the sister needed help. Pat stepped in and played a major role helping with the eight young children.
And she continued to help as the children grew up and began lives of their own. Pat was such an important part of the children's lives that when their mother died, the eight nieces and nephews gave their mother's ring with their eight birthstones to Pat at the graveside and told her she was "The Boss" now. For many years, they sent her cards on Boss's Day.
This lovely story of an atypical happy family really isn't that unusual. In Family Ties and Aging, Dr. Ingrid Arnet Connidis examines the family ties of older adults and identifies numerous ways older adults create family. In an interview for "Aging Horizons Bulletin", she states that single, childless adults find other ways to build families. They may be very engaged with their extended families-nieces, nephews, parents and siblings-and develop a strong network of friends. In the words of Dr. Connidis, "A lifetime of investing in other family relationships, friendships, work and other interests appears to pay off in a network of support and a range of engagements in social life."
Pat certainly exemplifies the value of investing in other family relationships and friendships. She continues to be involved with her extended family and returns to Indiana every fall for a family reunion at a local Irish pub. Each year she records the current age of each of her twenty-two nieces and nephews and forty-nine grand-nieces and grand-nephews on a yellow legal pad. Just as Pat was always there for them, they are always there for her when she needs help. The family attorney helped with the purchase of her home, and the family CPA does her taxes.
Sorry, Leo Tolstoy, you were wrong about happy families. They aren't all alike. They are as different as the loving people who create and nurture them.