June 2, 2016
Froid ou Chaud?
A simple question from our Parisian waiter, and after six years of high school and college French, I knew those words meant "hot or cold". But on the first night of my first trip to Paris many years ago, my mind went blank, and my ten-year-old daughter ended up with a cup of warm milk. We had a good laugh, and in spite of my unsuccessful communication attempt, I continued to use my limited French for the remainder of our trip. Odds are I made other less-obvious language mistakes, but the Parisians were kind and seemed to appreciate my efforts.
Each time I return to my favorite city in the world, I try to improve my French language skills. As I plan my next trip to Paris, I am once again learning more French. My husband, who made no effort to learn French on previous trips, decided he will have more fun if he knows some French and is working on his basic language skills. Although we are at different levels, we are having fun practicing together.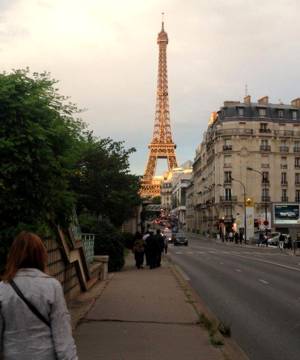 Learning a language, even a little, does more than just enhance a great trip. Numerous studies have demonstrated that language learning improves brain health. A Penn State Study showed that learning and practicing a new language strengthens the brain, regardless of the age of the student. Another study conducted by the University of Edinburgh indicated that learning a second language slowed brain decline. Other benefits of learning a second language include meeting new people, improving job prospects, understanding other cultures, and gaining a sense of accomplishment. And best of all, it's fun.
Although it may be a bit harder to learn a new language later in life, older students have some advantages. According to Catherine Snow, PhD, Henry Lee Shattuck Professor of Education at the Harvard Graduate School of Education, "Older learners have advantages. They already know one language (and sometimes more than one) quite well and have practiced with the linguistic capacities that speed language acquisition. They are typically better at intentional learning: They have study strategies, mnemonic devices, literacy skills, and other resources." Albert Costa, professor of neuroscience at Universitat Pompeu in Barcelona, states "Older people have larger vocabularies than younger ones, so the chances are your vocabulary will be as large as a native."
There are numerous ways to learn a new language-classes, books, conversation groups, CDs, and on-line programs. Some people enjoy the discipline of attending a class, but I do best when I choose when and where I learn, so on-line programs and workbooks work best for me. Some language learning options are pricey, but many are inexpensive or free. Currently I am using Coffee Break French from Radio Lingua (
http://radiolingua.com/
.) I download the free twenty-minute segments on my IPod and listen to them while I run. My husband and I listen to the podcasts in the car and practice speaking French with each other. Two other highly regarded free language-learning web sites are Duolingo (
https://www.duolingo.com/
) and Foreign Service Institute (
https://fsi-languages.yojik.eu/
.)
I use
French Made Simple
, a workbook by Eugene Jackson and Antonio Rubio for grammar and reading practice. We watch French films (with the subtitles on for now) to learn more about the culture and practice understanding spoken French.
Netflix provides a list
of the ten best French films for language learners.
Ready to learn a new language or improve rusty skills?
Decide what language you would love to learn.
Identify why you want to learn a new language-prepare for a trip, understand another culture better, take on a new challenge.
Choose how you want to learn based on your learning preference.
Start learning.
Stick to a schedule-a little practice each day makes a big difference.
Have fun.
We probably won't be drinking much milk on our next trip to Paris, but if we do, I know we will order it the right temperature. And, like every other trip to this beautiful city, it will be a delight.
(Read about my last trip to Paris and other travels at
www.debbiesjournal.com
.)