May 21, 2015
My invitation to appear on
Inside Edition
didn't last very long. On the morning of May 20, 2015, just hours before David Letterman's last show, an
Inside Edition
staffer called me looking for a retirement coach to be part of a segment on how David Letterman would handle retirement. They thought I lived in New York City and when I clarified that I lived in Sarasota, FL, they told me they needed someone that day. So, they would keep looking and call me back if they couldn't find anyone else. They did find someone else, and I didn't get a call-back.
However, their phone call got me thinking about what I know about good retirement planning and what my coaching clients focus on when planning their retirements.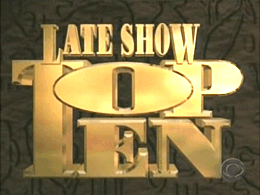 So, David Letterman, here is my "TOP TEN" list of retirement tips for you.
TOP TEN THINGS I WANT TO TELL DAVID LETTERMAN ABOUT RETIREMENT
Plan for how you want to spend this time. Planning reduces uncertainty and helps you create your best life. People who plan increase their chances of achieving their goals.
Identify your goals. What do you want your next act to be? One study found that only 17% of adults had identified goals but those 17% were 10 times more likely to achieve self-described success.
Stay active. Research continually demonstrates that physical activity is the most important factor in keeping both our bodies and our minds in good shape.
Stay engaged. People with strong social connections live longer, happier lives.
Find your passion. What gives your life meaning? Often, we find meaning from our careers and retirement gives us the opportunity to spend time exploring our passions and talents and how we want to use them.
Identify how you are going to keep learning. "Stupid Pet Tricks" and "Stupid Human Tricks" are hard acts to follow.
Explore if and how you want to work in retirement. Encore careers that combine earning and contributing to the social good keep us connected and challenged.
Discuss how your relationship and lifestyle will change with your spouse. You are going to be around the house more and have more free time.
Identify hobbies and leisure activities you want to pursue. Now is the time to pursue those dreams you didn't have time for when you were working.
Savor this time. Having a long and healthy retirement is a relatively new phenomenon. In the past most people didn't live long enough nor had the health and resources to enjoy this life stage. Retirement is a beautiful opportunity for a new adventure.
If you enjoyed this article, please share it with others who would be interested.