March 28, 2015
I ran a marathon once. But it was more than twenty years ago. Since then I have had three surgeries, six months of chemotherapy and ten years of drug therapy for breast cancer. Last year a doctor told me I had "old knees" and should consider finding a different sport from running.
So when a friend asked me to run the Sarasota Half-Marathon with her, I had my doubts. Could I still run that far? Would my knees let me down? But I was intrigued as well because I know the rewards of setting a running goal and training for a race. "Race" really isn't the right word for me, anymore. Running isn't about the speed; now it is about being outside, moving, and accomplishing a goal. It is about the discipline and the joy. And, more recently, it is about being a role model for my daughter and grand-daughter, showing them that women can remain strong and independent as they age.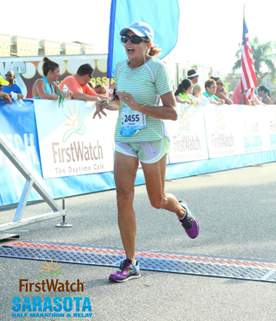 I decided that if I could run seven miles pain-free, I would sign up for the half-marathon. About two months before the race, I ran my pain-free seven miles and registered for the half-marathon that evening. I was committed. Now it was time to train.
Since I hope to still be running in my nineties, I wanted to make sure I didn't get injured as I increased my mileage. So I stretched and iced and cross-trained and even bought a home acupressure machine to use on my knees. I am a bit of a sucker for the latest, greatest gadget. Two weeks before the race, I ran 13 miles, and it wasn't pretty. The last mile was grueling, and in the 80 degree heat I got a bit dehydrated. So, as race day approached, I was a bit anxious about how I would do.
Race Day
4:30 AM and I can't sleep. I am too excited. So I get up and have my one cup of coffee before the big race. Husband Paul drops me off and I join the 5,000 other runners heading for the starting line. Because I run in prescription sun glasses, and it is still dark, I have a little trouble seeing, but I find the starting spot.
After waiting in one of the huge lines for a pre-race porta-potty stop, I find my starting corral and realize I have been mistakenly put in the corral with the almost-fastest runners. All around me are ultra-fit, experienced beautiful runners. I enjoy a Walter Mitty moment imagining that I am going to keep up with these runners once the race starts. The countdown starts and we are off, and for a few minutes I do run with the "B" corral. It is fun while it lasts, but I am soon passed by hundreds of runners and settle into my race pace.
For some reason, I am just so happy to be running and can't stop smiling. I wave at the people who are cheering us on and thank the little band playing at the base of the John Ringling Bridge. Even at mile twelve, when it really starts to get hard, I am still smiling. People must think I am crazy or on drugs, but I can't stop smiling.
It was a great day, and I am so thankful I didn't let one doctor's limited view of what I could still do keep me from an activity I love. As one of my favorite motivational signs along the final mile of the course said:
Forget the glass slippers,
Princesses wear running shoes
If you enjoyed this article, please share it with others who would be interested.